This article, Warhammer 40K Homebrew Wiki:How to Post an Article, is part of WH40K Homebrew Wiki's "Guide" articles. It is treated as a community project and serves as both hints and guidelines. You are free to edit it, if deemed appropriate.
Greetings fellow adepts of the WH40K Homebrew Wiki! Are you frustrated trying to post a new page? Do you feel like putting your foot through your monitor? Fear not, for we have created this guide to assist our newer contributors learn how to use the source coding of wikia, so that they can be successful at posting a brand article. So, how do you start a new page? Starting a new page on the wiki takes only a couple of clicks and is an important part of contributing to a community. This page, starting with the steps below, will walk you through the basics.
Step-by-Step
Click on the Add button (it appears as Add New Page if you are an anonymous user) on the top right of your community header.

The "Create a new article" box will open.
You can choose the article name by typing it in the box. This name will become the last part of the page's URL.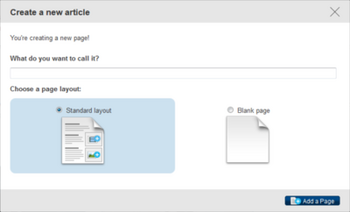 Decide between a standard page layout or a blank page. The standard layout provides image and video placeholders as well as section headings. The preload contents for the "Standard layout" are stored at MediaWiki:Createpage-with-video on your community and can be edited by local admins.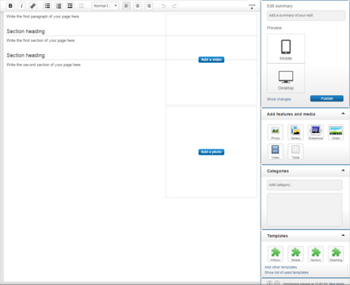 A second way to create a page is by clicking on any red link on your community (which is created by linking to a page that does not exist). You will then be brought into the editor where you can add your content.
Options

The "Editing" tab of Special:Preferences includes options for page creation:
Use a blank page as default for creating a new page - This makes the 'Blank page' option the default on the 'Create a new article' box.
Disable "Create a new article" flow - If checked, this' disables the box for you.
Where to go now